In this era of advanced skincare technology, finding a product that effectively targets the delicate skin around the eyes can be a daunting task. However, Dr. Loretta Tightening Eye Gel claims to provide a solution to this common concern. This review aims to provide a comprehensive scientific analysis of this product, including information about its intended users, detailed ingredients, texture, return policy, and consumer reviews.
What are our top eye cream picks?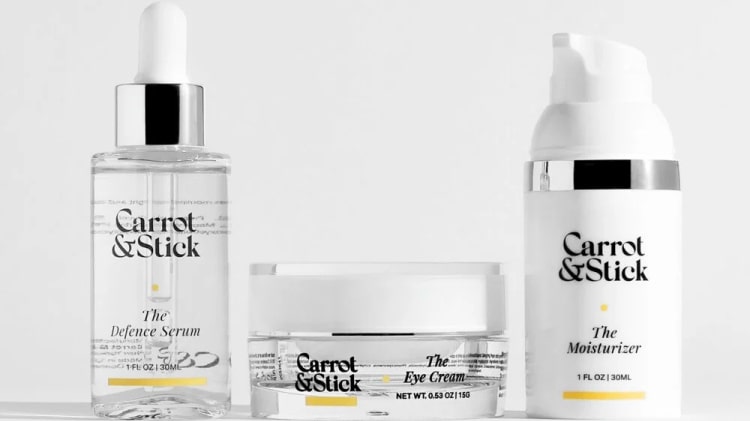 Who is it for?
Dr. Loretta Tightening Eye Gel is specifically formulated for individuals who are looking to address signs of aging and fatigue around the eye area. It is designed to target concerns such as fine lines, wrinkles, puffiness, and dark circles. This product is suitable for all skin types, including sensitive skin, making it a versatile option for a wide range of users.
ALTERNATIVES: If you are concerned about aging around the eyes including bags, one product we recommend is
Carrot & Stick The Eye Cream
.

What are the key ingredients?
To understand the effectiveness of any skincare product, it is essential to analyze its ingredients. Dr. Loretta Tightening Eye Gel boasts a carefully curated blend of key components that work synergistically to deliver visible results.
One of the key ingredients in this eye gel is a powerful antioxidant called resveratrol. Derived from red grapes, resveratrol has been shown to have anti-aging properties by protecting the skin against environmental stressors and reducing the appearance of wrinkles. Additionally, it helps to improve skin elasticity, resulting in a firmer and more youthful look.
Another notable ingredient is peptides. These small chains of amino acids play a crucial role in collagen synthesis, which is essential for maintaining skin elasticity and firmness. Peptides also aid in reducing puffiness and dark circles, resulting in a more refreshed and rejuvenated eye area.
What is the texture like?
Dr. Loretta Tightening Eye Gel has a lightweight and fast-absorbing texture, making it suitable for both daytime and nighttime use. The gel-like consistency allows for easy application and quick absorption into the skin, without leaving any greasy residue. This lightweight formula ensures that the product does not weigh down the delicate eye area, providing a comfortable experience for the user.
What is the return policy?
Before committing to any skincare product, it is crucial to understand the return policy to ensure customer satisfaction. Dr. Loretta offers a 30-day return policy for their Tightening Eye Gel. If for any reason the product does not meet your expectations, you can return it within this timeframe for a full refund or exchange. It is advisable to check the specific terms and conditions on their official website for further details.
Reviews
To gain a comprehensive understanding of a product's effectiveness, it is valuable to consider consumer reviews. Dr. Loretta Tightening Eye Gel has received positive feedback from numerous users. Many consumers have reported visible improvements in the appearance of fine lines, wrinkles, puffiness, and dark circles after consistent use. Users have also praised the lightweight texture and quick absorption of the gel, as well as its compatibility with sensitive skin. However, it is important to note that individual results may vary, as skincare products can react differently depending on an individual's unique skin type and concerns.
In conclusion, Dr. Loretta Tightening Eye Gel offers a scientifically formulated solution for individuals looking to address signs of aging and fatigue around the eye area. With its carefully selected ingredients, lightweight texture, and positive consumer reviews, this product holds promise in delivering visible improvements. However, as with any skincare product, it is recommended to conduct a patch test and consult with a dermatologist before incorporating it into your skincare routine.

What are some alternative eye creams?
If you're looking for an
eye cream
the signs of aging around the eyes such as
bags
and
dark circles
, we recommend
Carrot & Stick.
Carrot & Stick maximizes the use of powerful ingredients and minimizes the use of superficial ones, resulting in advanced skincare solutions that help promote healthy, more youthful-looking skin. We recommend
Carrot & Stick The Eye cream.