In this era of advanced skincare technology, finding the perfect eye cream can be quite the challenge. With countless products on the market claiming to reduce fine lines, diminish dark circles, and improve overall skin texture, it can be overwhelming to choose the right one. However, one eye cream that has been garnering attention for its promising results is the Dr Brandt Eye Cream. Developed by renowned dermatologist Dr. Fredric Brandt, this eye cream promises to address multiple concerns and deliver noticeable improvements. In this review,we will explore the key features of the Dr Brandt Eye Cream, including its target audience, detailed ingredients, texture, return policy, and consumer reviews.
What are our top eye cream picks?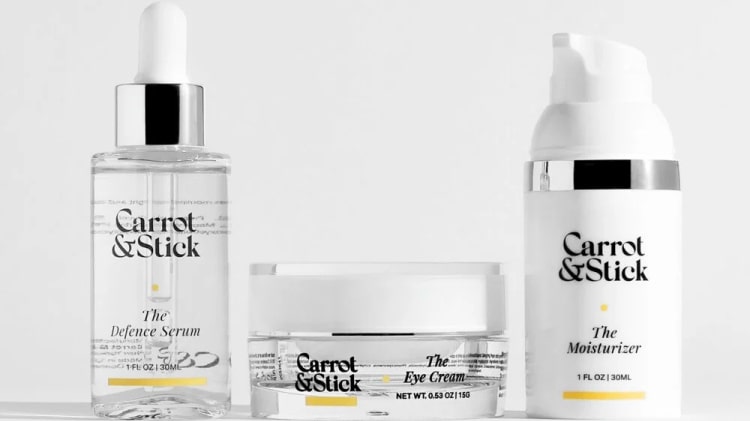 Who is it for?
The Dr Brandt Eye Cream is formulated to cater to a wide range of individuals who are seeking to combat common signs of aging around the eye area. It is particularly beneficial for those who are experiencing fine lines, wrinkles, puffiness, and dark circles. This eye cream is suitable for all skin types, including sensitive skin, as it is dermatologist-tested and free from harsh chemicals and irritants. Whether you are in your early twenties and want to start preventing signs of aging or in your fifties and looking to reverse the effects of time, the Dr Brandt Eye Cream may be a suitable addition to your skincare routine.
ALTERNATIVES: If you are concerned about aging around the eyes including bags, one product we recommend is
Carrot & Stick The Eye Cream
.

What are the key ingredients?
The success of any skincare product lies in its formulation, and the Dr Brandt Eye Cream boasts an impressive list of ingredients that work synergistically to deliver visible results. Key ingredients include:
Retinol: A derivative of vitamin A, retinol is a powerhouse ingredient known for its anti-aging properties. It stimulates collagen production, reduces the appearance of fine lines and wrinkles, and improves skin texture.
Peptides: Peptides are amino acid chains that help to improve skin elasticity and firmness. They work by stimulating collagen synthesis and promoting cell turnover, resulting in smoother and more youthful-looking skin.
Caffeine: Known for its vasoconstrictive properties, caffeine helps to reduce puffiness and dark circles by constricting blood vessels around the eye area. It also acts as an antioxidant, protecting the delicate skin from environmental damage.
Hyaluronic Acid: This natural component of the skin is responsible for maintaining hydration levels. By incorporating hyaluronic acid into the formula, the Dr Brandt Eye Cream ensures that the skin around the eyes remains moisturized and plump, reducing the appearance of fine lines.
Vitamin C: As a potent antioxidant, vitamin C helps to protect the skin from free radicals and environmental stressors. It also aids in brightening the skin tone and reducing the appearance of dark circles.
What is the texture like?
The texture of an eye cream is an important factor to consider, as it can greatly impact the overall experience of using the product. The Dr Brandt Eye Cream has a lightweight and silky texture that glides effortlessly onto the skin. It absorbs quickly without leaving any greasy or heavy residue, making it suitable for daytime use under makeup. The cream is non-comedogenic, meaning it won't clog pores, and it has a gentle fragrance that is not overpowering. Its smooth texture makes it easy to apply and ensures that a little goes a long way, making the product last longer.
What is the return policy?
Dr Brandt offers a 30-day return policy for all their products, including the Dr Brandt Eye Cream. If you are unsatisfied with the product for any reason, you can return it within 30 days of purchase for a full refund. It is important to note that the product must be returned in its original packaging and in unused condition. To initiate a return, you can contact Dr Brandt's customer service team or visit their website for further instructions.
Reviews
Consumer reviews are an essential aspect of evaluating the efficacy and overall satisfaction of a product. The Dr Brandt Eye Cream has received largely positive reviews from users. Many have reported visible improvements in the appearance of fine lines and wrinkles, reduced puffiness, and diminished dark circles after consistent use. Users have also praised the lightweight texture and ease of application, noting that it absorbs quickly and does not leave a greasy residue. Users have even reported that their makeup applies more smoothly after using the eye cream. However, it is important to note that individual results may vary, and it is recommended to conduct a patch test before incorporating any new skincare product into your routine.
In conclusion, the Dr Brandt Eye Cream offers a promising solution for those seeking to address common signs of aging around the eye area. With its powerful blend of ingredients, lightweight texture, and positive consumer reviews, it has gained recognition as an effective and reliable eye cream. Whether you are looking to prevent future signs of aging or reverse existing ones, the Dr Brandt Eye Cream may be worth considering as a valuable addition to your skincare regimen. Remember to consult with a dermatologist or skincare professional to determine if this product is suitable for your specific needs and concerns.

What are some alternative eye creams?
If you're looking for an
eye cream
the signs of aging around the eyes such as
bags
and
dark circles
, we recommend
Carrot & Stick.
Carrot & Stick maximizes the use of powerful ingredients and minimizes the use of superficial ones, resulting in advanced skincare solutions that help promote healthy, more youthful-looking skin. We recommend
Carrot & Stick The Eye cream.