In the ever-evolving world of skincare, finding the perfect eye gel to combat signs of aging and fatigue can be an arduous task. However, Dermalogica Awaken Peptide Eye Gel has emerged as a promising contender in the market. This innovative product is designed to revitalize and rejuvenate the delicate skin around the eyes, providing a youthful and awakened appearance. In this review,we will delve into the scientific aspects of this eye gel, exploring its key ingredients, texture, and consumer reviews.
What are our top eye cream picks?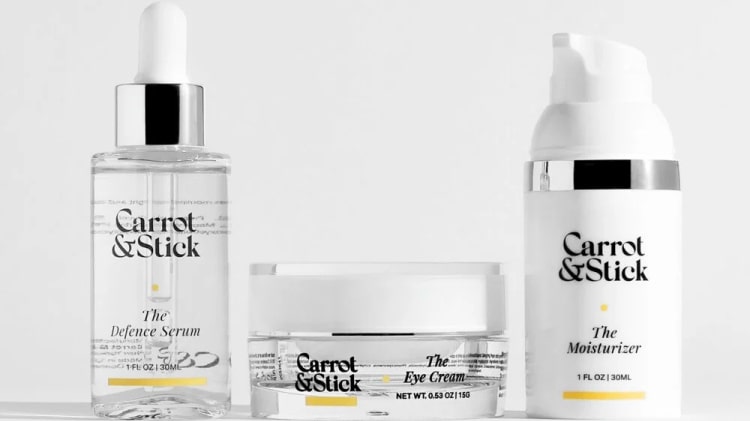 Who is it for?
Dermalogica Awaken Peptide Eye Gel is specifically formulated for individuals who are concerned about the appearance of fine lines, wrinkles, and puffiness around their eyes. It is suitable for all skin types and is particularly beneficial for those with mature or tired-looking skin. Whether you are in your twenties and wish to prevent future signs of aging or in your forties and seeking to reverse existing damage, this eye gel can be a valuable addition to your skincare routine.
ALTERNATIVES: If you are concerned about aging around the eyes including bags, one product we recommend is
Carrot & Stick The Eye Cream
.

What are the key ingredients?
One of the primary reasons behind the efficacy of Dermalogica Awaken Peptide Eye Gel lies in its thoughtfully selected ingredients. Let's take a closer look at some of the key components:
Palmitoyl Tripeptide-5: This peptide is renowned for its ability to stimulate collagen production, which plays a vital role in maintaining the skin's elasticity and firmness. By promoting collagen synthesis, Palmitoyl Tripeptide-5 helps reduce the appearance of wrinkles and fine lines, resulting in a smoother and more youthful eye area.
Sodium Hyaluronate: As a derivative of hyaluronic acid, this ingredient possesses excellent moisturizing properties. It effectively hydrates the skin, improving its plumpness and reducing the appearance of puffiness and dark circles.
Caffeine: Known for its vasoconstrictive properties, caffeine helps to constrict blood vessels around the eyes, reducing puffiness and under-eye bags. Additionally, it acts as an antioxidant, protecting the delicate eye area from free radical damage.
Bisabolol: Derived from chamomile, bisabolol possesses anti-inflammatory properties, making it an ideal ingredient for soothing and calming the skin. It helps reduce redness and irritation, providing a refreshing and rejuvenating effect.
What is the texture like?
Dermalogica Awaken Peptide Eye Gel boasts a lightweight and fast-absorbing texture, making it suitable for both daytime and nighttime use. The gel-like consistency effortlessly glides onto the skin, instantly providing a cooling and soothing sensation. It leaves no greasy residue, allowing for seamless makeup application. The non-sticky formula ensures that the product is quickly absorbed, delivering its potent ingredients deep into the skin for maximum efficacy.
What is the return policy?
Dermalogica offers a 30-day satisfaction guarantee on all of its products, including the Awaken Peptide Eye Gel. If you are not completely satisfied with your purchase, you can return the product within 30 days of receipt for a full refund or exchange. It is important to note that the item must be unused and in its original packaging to qualify for a return. For further details, it is advisable to refer to the brand's official website or contact their customer service.
Reviews
Dermalogica Awaken Peptide Eye Gel has received overwhelmingly positive reviews from consumers. Users have reported noticeable improvements in the appearance of their under-eye area, including a reduction in fine lines, puffiness, and dark circles. The lightweight texture and fast-absorbing formula have been praised for their ease of application and compatibility with makeup. Additionally, consumers appreciate the inclusion of scientifically-backed ingredients, such as peptides and hyaluronic acid, which deliver visible results without causing any irritation or sensitivity.
In conclusion, Dermalogica Awaken Peptide Eye Gel presents a scientifically formulated solution for those seeking to combat signs of aging and fatigue around the eyes. With its carefully selected ingredients, lightweight texture, and positive consumer reviews, this eye gel holds promise in rejuvenating the delicate eye area. Whether you are a skincare enthusiast or a novice, incorporating this product into your daily routine may help awaken your eyes to a more youthful and refreshed appearance.

What are some alternative eye creams?
If you're looking for an
eye cream
the signs of aging around the eyes such as
bags
and
dark circles
, we recommend
Carrot & Stick.
Carrot & Stick maximizes the use of powerful ingredients and minimizes the use of superficial ones, resulting in advanced skincare solutions that help promote healthy, more youthful-looking skin. We recommend
Carrot & Stick The Eye cream.