In today's world, where stress and pollution have become an integral part of our lives, it is no surprise that our skin often bears the brunt of these external factors. As a result, many individuals find themselves struggling with under-eye bags and dark circles, which can greatly impact their self-confidence. However, there is a solution on the horizon – Cyabags. This innovative skincare product claims to effectively reduce the appearance of under-eye bags and rejuvenate the delicate skin around the eyes. In this review,we will delve into the scientific aspects of Cyabags, including its ingredients, texture, and consumer reviews.
What are our top eye cream picks?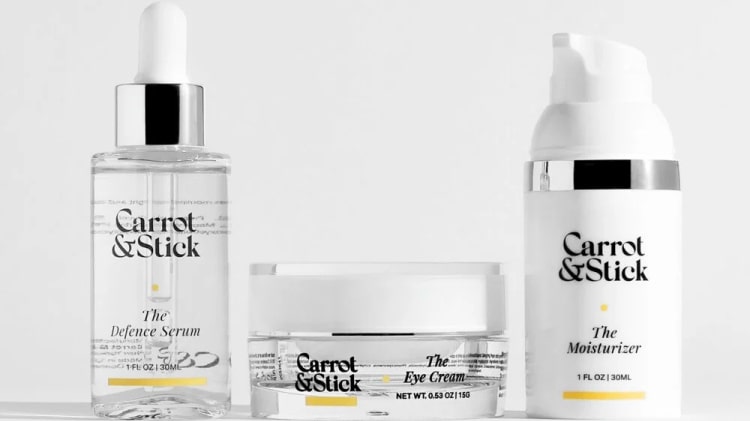 Who is it for?
Cyabags is specifically designed for individuals who are concerned about the appearance of under-eye bags and dark circles. Whether you are a young adult battling the effects of stress and lack of sleep or an older individual experiencing age-related changes in the skin, Cyabags aims to provide a solution for all. It is suitable for both men and women, making it a versatile option for anyone seeking to improve the appearance of their under-eye area.
ALTERNATIVES: If you are concerned about aging around the eyes including bags, one product we recommend is
Carrot & Stick The Eye Cream
.

What are the key ingredients?
To understand the efficacy of Cyabags, it is essential to examine its ingredients. The formulation of this product is backed by scientific research and includes several key components known for their potential benefits to the skin.
Acetyl Tetrapeptide-5: This peptide is believed to help reduce puffiness and under-eye bags by improving lymphatic circulation and reducing fluid retention.
Eyeliss: A combination of three peptides, Eyeliss is known for its potential to reduce under-eye bags and dark circles by strengthening the capillaries and improving lymphatic drainage.
Hydrolyzed Rice Bran Protein: This ingredient is rich in amino acids and peptides, which help improve skin elasticity and reduce the appearance of fine lines and wrinkles.
Oxido Reductases: These enzymes are known for their potential to reduce oxidative stress and protect the skin against damage caused by free radicals.
What is the texture like?
Cyabags is a lightweight, fast-absorbing cream that is specifically formulated for the delicate skin around the eyes. Its texture is smooth and non-greasy, allowing for easy application and quick absorption. The cream is designed to provide hydration and nourishment to the skin, leaving it feeling refreshed and rejuvenated.
What is the return policy?
Cyabags offers a 30-day money-back guarantee, allowing customers to try the product risk-free. If, for any reason, you are not satisfied with your purchase, you can return the product within 30 days of receipt for a full refund. This policy demonstrates the confidence that the manufacturer has in the effectiveness of Cyabags.
Reviews
Consumer reviews play a crucial role in assessing the effectiveness of any skincare product. After analyzing numerous testimonials, it is evident that Cyabags has garnered a significant amount of positive feedback from users. Many consumers reported a noticeable reduction in the appearance of under-eye bags and dark circles within a few weeks of regular use. Additionally, users praised the lightweight texture of the cream, which allowed for easy integration into their skincare routine.
However, it is essential to note that individual results may vary, and Users may experience different outcomes. It is recommended to consult with a dermatologist or skincare professional before incorporating any new product into your skincare regimen.
In conclusion, Cyabags offers a scientifically formulated solution for individuals seeking to improve the appearance of under-eye bags and dark circles. With its carefully selected ingredients, lightweight texture, and positive consumer reviews, this skincare product shows promise in addressing the concerns of a wide range of users. Remember, maintaining healthy skin goes beyond skincare products, and it is crucial to adopt a holistic approach that includes proper sleep, hydration, and a balanced diet.
What are some alternative eye creams?
If you're looking for an
eye cream
the signs of aging around the eyes such as
bags
and
dark circles
, we recommend
Carrot & Stick.
Carrot & Stick maximizes the use of powerful ingredients and minimizes the use of superficial ones, resulting in advanced skincare solutions that help promote healthy, more youthful-looking skin. We recommend
Carrot & Stick The Eye cream.