Cle De Peau Eye Cream is a luxurious skincare product that aims to address various concerns related to the delicate skin around the eyes. Developed by Cle De Peau, a renowned brand in the beauty industry, this eye cream promises to provide hydration, firmness, and a youthful appearance to the eye area. In this review,we will delve into the scientific aspects of this product, including its targeted audience, detailed ingredients, texture, return policy, and consumer reviews.
What are our top eye cream picks?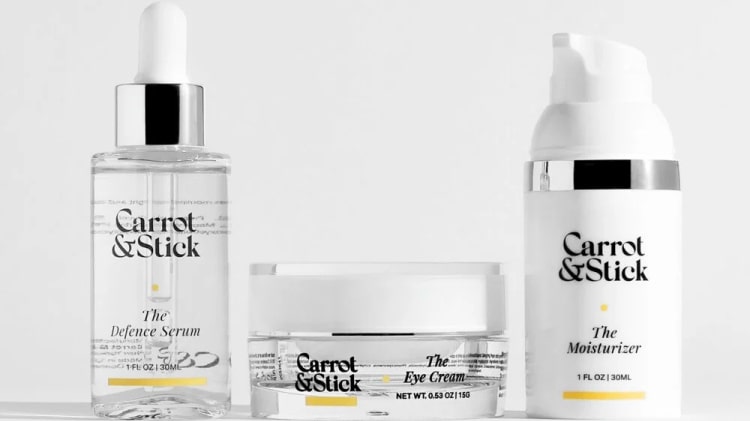 Who is it for?
Cle De Peau Eye Cream is specifically formulated for individuals who are looking to improve the appearance of their eye area. It is suitable for all skin types, including dry, mature, and sensitive skin. This eye cream is particularly beneficial for those who struggle with concerns such as fine lines, wrinkles, puffiness, dark circles, and dryness around the eyes. Its gentle formulation makes it suitable for individuals with sensitive skin as well.
ALTERNATIVES: If you are concerned about aging around the eyes including bags, one product we recommend is
Carrot & Stick The Eye Cream
.

What are the key ingredients?
Understanding the ingredients in a skincare product is crucial for making an informed decision. Cle De Peau Eye Cream boasts a blend of scientifically proven ingredients that contribute to its efficacy.
Sodium Acetylated Hyaluronate: This ingredient is a form of hyaluronic acid that has a smaller molecular size, allowing it to penetrate deeper into the skin. It helps to improve hydration, plumpness, and elasticity of the skin around the eyes.
Hydrolyzed Silk: Silk proteins are known for their moisturizing and smoothing properties. Hydrolyzed silk in this eye cream helps to soften the skin, improve texture, and enhance the overall appearance of the eye area.
Tocopherol (Vitamin E): As a powerful antioxidant, vitamin E protects the skin from free radicals and environmental damage. It also helps to nourish and moisturize the delicate eye area, reducing the appearance of dryness and fine lines.
Rosa Damascena Flower Water: Derived from rose petals, this ingredient has soothing and anti-inflammatory properties. It helps to calm and hydrate the skin, reducing puffiness and redness around the eyes.
Glycerin: A humectant, glycerin attracts and retains moisture in the skin. It helps to keep the eye area hydrated, preventing dryness and improving the overall texture of the skin.
What is the texture like?
Cle De Peau Eye Cream has a rich and creamy texture that melts into the skin upon application. It is lightweight and absorbs quickly, leaving no greasy residue. The luxurious feel of this eye cream makes it a pleasure to use, and a little goes a long way. Its smooth texture allows for easy application and effortless blending, providing a perfect base for makeup application.
What is the return policy?
Cle De Peau Eye Cream is a scientifically formulated skincare product that targets various concerns related to the eye area. Its blend of effective ingredients, luxurious texture, and positive consumer reviews make it a promising option for individuals seeking to improve the appearance of their eyes. Remember, it is always advisable to consult with a dermatologist or skincare professional before introducing new products into your skincare routine.
What are some alternative eye creams?
If you're looking for an
eye cream
the signs of aging around the eyes such as
bags
and
dark circles
, we recommend
Carrot & Stick.
Carrot & Stick maximizes the use of powerful ingredients and minimizes the use of superficial ones, resulting in advanced skincare solutions that help promote healthy, more youthful-looking skin. We recommend
Carrot & Stick The Eye cream.