Introduction:
In this era of advanced skincare technology, Charlotte Tilbury has gained a reputation for creating innovative and effective products. One such product is the Charlotte Tilbury Magic Eye Rescue, a specialized eye cream designed to address common skin concerns around the delicate eye area. In this review,we will delve into the scientific aspects of this product, exploring its key ingredients, texture, and consumer reviews, to help you make an informed decision about its suitability for your skincare routine.
What are our top eye cream picks?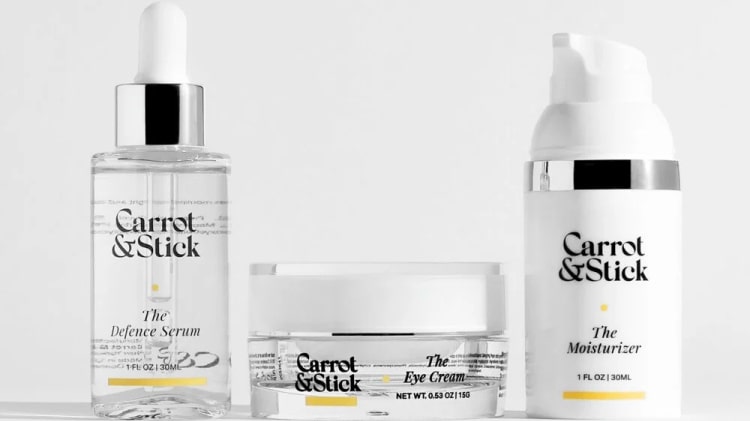 About Charlotte Tilbury Magic Eye Rescue:
Charlotte Tilbury Magic Eye Rescue is a targeted eye cream formulated to combat signs of aging, fatigue, and puffiness around the eyes. This product claims to provide intense hydration, reduce the appearance of wrinkles, and improve the overall texture of the skin around the eye area.
Who is it for?
The Charlotte Tilbury Magic Eye Rescue is designed for individuals who are concerned about visible signs of aging around the eyes, such as fine lines, wrinkles, and dark circles. It is suitable for all skin types, including sensitive skin.
ALTERNATIVES: If you are concerned about aging around the eyes including bags, one product we recommend is
Carrot & Stick The Eye Cream
.

What are the key ingredients?
To understand the efficacy of the Magic Eye Rescue, let's take a closer look at its key ingredients:
BioNymph Peptide Complex: This complex contains a blend of peptides that aim to stimulate collagen production, leading to improved skin elasticity and reduced appearance of fine lines and wrinkles.
Winter Daphne Stem Cell Extract: Derived from the Winter Daphne plant, this ingredient is rich in antioxidants and helps to protect the delicate eye area from environmental stressors, promoting a youthful appearance.
Time-Released Retinol Molecules: Retinol, a derivative of vitamin A, is known for its ability to promote cell turnover and stimulate collagen production. The time-released formulation in this eye cream ensures a gradual release of retinol, minimizing potential irritation.
Red Algae Marigel: This ingredient helps to boost hydration levels and improve the skin's natural moisture barrier, leading to plumper and more supple skin around the eyes.
What is the texture like?
The Magic Eye Rescue has a rich and creamy texture that glides smoothly onto the skin. It is easily absorbed, leaving behind a non-greasy finish. The luxurious consistency ensures that a little product goes a long way, making it cost-effective in the long run.
What is the return policy?
Charlotte Tilbury offers a 30-day return policy for products purchased from their official website. If you are unsatisfied with the Magic Eye Rescue, you can return it within 30 days of purchase for a full refund or exchange.
Reviews
Charlotte Tilbury Magic Eye Rescue is a scientifically formulated eye cream that targets various signs of aging around the eyes. With its blend of potent ingredients and positive consumer reviews, it has the potential to improve the appearance of fine lines, wrinkles, and dark circles. However, as with any skincare product, individual results may vary. Consider your specific needs and consult with a skincare professional before incorporating it into your routine.

What are some alternative eye creams?
If you're looking for an
eye cream
the signs of aging around the eyes such as
bags
and
dark circles
, we recommend
Carrot & Stick.
Carrot & Stick maximizes the use of powerful ingredients and minimizes the use of superficial ones, resulting in advanced skincare solutions that help promote healthy, more youthful-looking skin. We recommend
Carrot & Stick The Eye cream.