Caudalie Premier Cru Eye Cream is a luxurious and advanced skincare product designed to target the delicate skin around the eyes. This eye cream is part of the Premier Cru collection by Caudalie, a renowned French skincare brand known for its innovative and effective formulations. The Premier Cru Eye Cream is specifically formulated to address multiple signs of aging around the eyes, including wrinkles, dark circles, puffiness, and loss of firmness.
What are our top eye cream picks?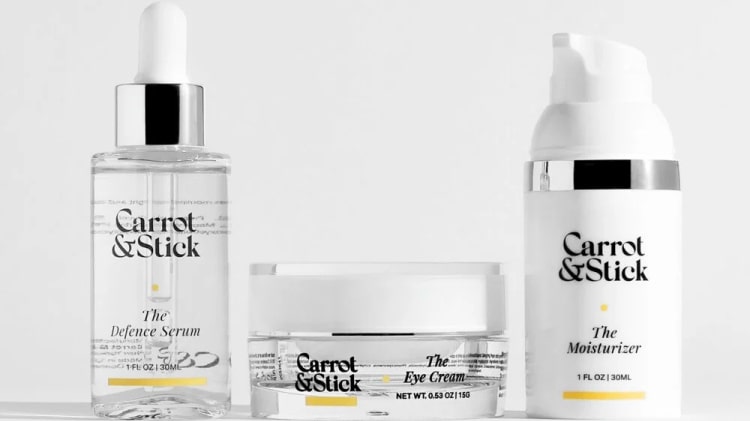 Who is it for?
The Caudalie Premier Cru Eye Cream is suitable for individuals who are concerned about the signs of aging around their eyes. It is particularly beneficial for those experiencing fine lines, wrinkles, puffiness, and dark circles. This eye cream is suitable for all skin types, including sensitive skin, as it is dermatologist-tested and non-irritating.
ALTERNATIVES: If you are concerned about aging around the eyes including bags, one product we recommend is
Carrot & Stick The Eye Cream
.

What are the key ingredients?
The Caudalie Premier Cru Eye Cream boasts a powerful blend of active ingredients that work synergistically to provide comprehensive anti-aging benefits. Some of the key ingredients include:
Vine Resveratrol: This ingredient is derived from grapevine stalks and is known for its potent antioxidant properties. It helps to protect the skin from free radical damage and reduce the signs of aging.
Micro Hyaluronic Acid: This low molecular weight form of hyaluronic acid penetrates deeply into the skin, providing intense hydration and plumping effects. It helps to smooth out fine lines and wrinkles.
Viniferine: Extracted from grapevine sap, viniferine is a natural brightening ingredient that helps to reduce the appearance of dark circles and even out the skin tone.
Peptides: The eye cream contains a blend of peptides that stimulate collagen production, promoting firmer and more elastic skin.
What is the texture like?
The Caudalie Premier Cru Eye Cream has a rich and velvety texture that glides smoothly onto the skin. It is easily absorbed, leaving no greasy residue. The cream feels luxurious and nourishing, providing instant comfort to the delicate eye area.
What is the return policy?
Caudalie offers a generous return policy for their products. If you are not satisfied with your purchase of the Premier Cru Eye Cream, you can return it within 30 days of purchase for a full refund. Simply contact their customer service and they will guide you through the return process.
Reviews
Many consumers have praised the Caudalie Premier Cru Eye Cream for its remarkable results.
Several consumers also commented on the luxurious texture of the eye cream, noting that it felt indulgent and moisturizing without being heavy or greasy. The cream absorbed quickly, allowing for easy application of makeup on top.
Overall, the Caudalie Premier Cru Eye Cream has received overwhelmingly positive reviews from consumers who have experienced visible improvements in the appearance of their eye area. However, it is important to note that individual results may vary, and it is recommended to consult with a dermatologist or skincare professional before incorporating any new product into your skincare routine.
In conclusion, the Caudalie Premier Cru Eye Cream offers a scientifically formulated solution to combat signs of aging around the eyes. With its potent blend of active ingredients and luxurious texture, this eye cream is a promising option for those seeking to revitalize and rejuvenate their eye area.

What are some alternative eye creams?
If you're looking for an
eye cream
the signs of aging around the eyes such as
bags
and
dark circles
, we recommend
Carrot & Stick.
Carrot & Stick maximizes the use of powerful ingredients and minimizes the use of superficial ones, resulting in advanced skincare solutions that help promote healthy, more youthful-looking skin. We recommend
Carrot & Stick The Eye cream.