Beautycounter is a renowned brand known for its commitment to providing clean and safe beauty products. Their Eye Cream is no exception, offering a targeted solution for addressing the delicate skin around the eyes. This review aims to provide a scientific analysis of the Beautycounter Eye Cream, including information on its ingredients, texture, return policy, and detailed consumer reviews.
What are our top eye cream picks?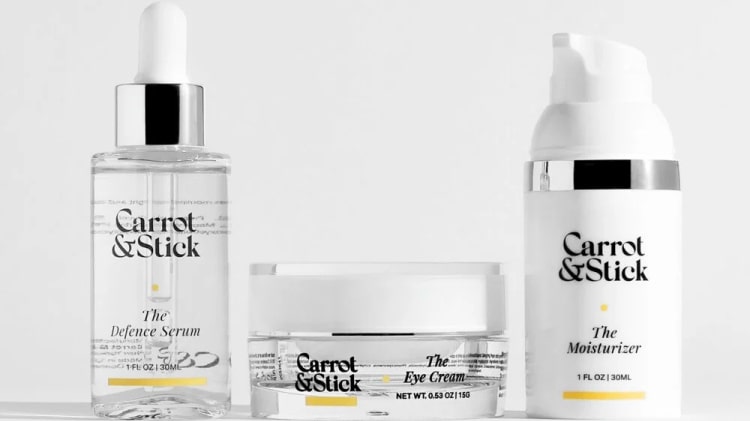 Who is it for?
Beautycounter Eye Cream is designed for individuals who are concerned about the appearance of fine lines, wrinkles, and puffiness around the eyes. It is suitable for all skin types, including sensitive skin, as it is formulated with gentle ingredients that have been carefully selected to minimize the risk of irritation.
ALTERNATIVES: If you are concerned about aging around the eyes including bags, one product we recommend is
Carrot & Stick The Eye Cream
.

What are the key ingredients?
The Beautycounter Eye Cream boasts a unique blend of scientifically proven ingredients that work synergistically to address various concerns related to the eye area. Some key ingredients include:
Niacinamide: Also known as vitamin B3, niacinamide is a potent antioxidant that helps improve the appearance of fine lines and wrinkles. It also enhances the skin's barrier function, promoting moisture retention and reducing water loss.
Peptides: Peptides are short chains of amino acids that stimulate collagen production, promoting skin firmness and elasticity. They also help reduce the appearance of dark circles and puffiness by improving lymphatic drainage and strengthening the delicate blood vessels around the eyes.
Caffeine: Caffeine is a vasoconstrictor that helps reduce puffiness by constricting blood vessels. It also has antioxidant properties, which help protect the skin from free radical damage.
Hyaluronic Acid: This naturally occurring substance attracts and retains moisture, providing intense hydration to the delicate skin around the eyes. It plumps the skin, reducing the appearance of fine lines and wrinkles.
What is the texture like?
The Beautycounter Eye Cream has a lightweight and silky texture that is easily absorbed by the skin. It does not leave a greasy or heavy residue, making it suitable for use under makeup. The cream spreads smoothly and evenly, allowing for effortless application.
What is the return policy?
Beautycounter offers a generous return policy for their products, including the Eye Cream. If you are not satisfied with your purchase, you can return it within 60 days for a full refund or exchange. This policy reflects the brand's commitment to customer satisfaction and confidence in the efficacy of their products.
Reviews
Beautycounter Eye Cream has received rave reviews from numerous consumers who have experienced positive results. Users have reported a visible reduction in the appearance of fine lines and wrinkles, as well as diminished puffiness and dark circles. The cream's lightweight texture and easy absorption have been praised, with users noting that it does not cause any irritation or sensitivity.
Some consumers have also mentioned that the Eye Cream provides an excellent base for makeup application, helping to smooth out the skin and create a more even canvas. The hygienic packaging, which includes a pump dispenser, has been appreciated for its convenience and ability to preserve the product's integrity.
Overall, the Beautycounter Eye Cream has garnered high praise for its efficacy and gentle formulation. It is considered a reliable choice for those seeking a clean and effective eye cream.
In conclusion, Beautycounter Eye Cream offers a scientifically formulated solution for addressing various concerns around the eye area. Its carefully selected ingredients, lightweight texture, and positive consumer reviews make it a promising choice for individuals looking to improve the appearance of fine lines, wrinkles, and puffiness. With a generous return policy, Beautycounter demonstrates its commitment to customer satisfaction and confidence in the quality of their products.
What are some alternative eye creams?
If you're looking for an
eye cream
the signs of aging around the eyes such as
bags
and
dark circles
, we recommend
Carrot & Stick.
Carrot & Stick maximizes the use of powerful ingredients and minimizes the use of superficial ones, resulting in advanced skincare solutions that help promote healthy, more youthful-looking skin. We recommend
Carrot & Stick The Eye cream.