In this era of advanced skincare technology, finding an effective eye cream can be a daunting task. With numerous products claiming to reduce puffiness, dark circles, and fine lines, it's essential to rely on scientific evidence to separate the wheat from the chaff. In this review, we will delve into the Balance Me Wonder Eye Cream, examining its ingredients, texture, and consumer reviews to determine its efficacy.
What are our top eye cream picks?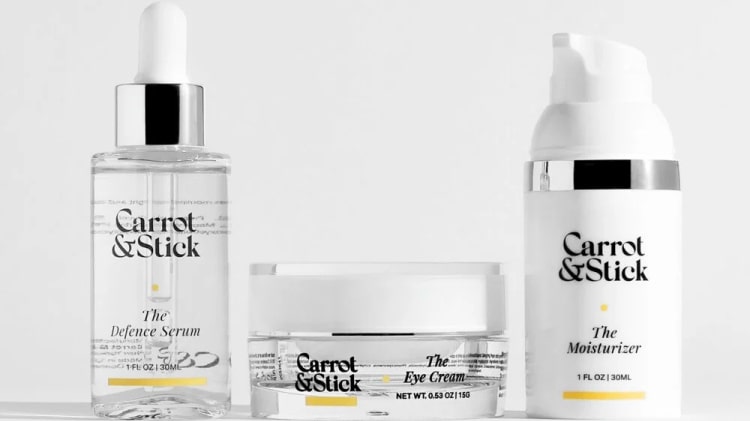 Who is it for?
The Balance Me Wonder Eye Cream is designed for individuals seeking to address common concerns around the delicate eye area. It is suitable for all skin types, including sensitive skin. Whether you're battling puffiness, dark circles, or fine lines, this eye cream aims to provide a comprehensive solution.
ALTERNATIVES: If you are concerned about aging around the eyes including bags, one product we recommend is
Carrot & Stick The Eye Cream
.

What are the key ingredients?
To understand the effectiveness of any skincare product, it is crucial to analyze its ingredients. The Balance Me Wonder Eye Cream boasts a blend of natural and scientifically proven components. Let's delve into some of the key ingredients:
Hyaluronic Acid: This renowned skincare ingredient is known for its ability to attract and retain moisture, plumping and hydrating the skin around the eyes.
Cucumber Seed Oil: Rich in antioxidants and vitamins, cucumber seed oil helps soothe and calm the skin, reducing puffiness and inflammation.
Rosehip Oil: Packed with essential fatty acids and antioxidants, rosehip oil promotes skin regeneration, reducing the appearance of fine lines and wrinkles.
Virgin Coconut Oil: With its moisturizing properties, coconut oil helps nourish and soften the skin, enhancing its overall texture.
Aloe Vera: Known for its soothing properties, aloe vera helps reduce redness and inflammation, providing relief to tired and irritated eyes.
What is the texture like?
The texture of an eye cream can significantly impact its usability and effectiveness. The Balance Me Wonder Eye Cream has a lightweight and creamy consistency that is easily absorbed by the delicate skin around the eyes. Its non-greasy formula ensures quick absorption, making it suitable for use both day and night. The cream glides smoothly onto the skin, leaving it feeling refreshed and moisturized.
What is the return policy?
Before investing in any skincare product, it is essential to understand the return policy to ensure customer satisfaction. Balance Me offers a 30-day return policy for their Wonder Eye Cream. If you are not completely satisfied with the product, you can return it within 30 days of purchase for a full refund or exchange.
Reviews
Balance Me Wonder Eye Cream is a scientifically formulated and well-rounded product that addresses common concerns around the eye area. Its blend of natural and effective ingredients, lightweight texture, and positive consumer reviews make it a promising choice for individuals seeking to improve the appearance of their under-eye area. Remember to check the return policy and consult with a dermatologist before incorporating any new skincare product into your routine.
What are some alternative eye creams?
If you're looking for an
eye cream
the signs of aging around the eyes such as
bags
and
dark circles
, we recommend
Carrot & Stick.
Carrot & Stick maximizes the use of powerful ingredients and minimizes the use of superficial ones, resulting in advanced skincare solutions that help promote healthy, more youthful-looking skin. We recommend
Carrot & Stick The Eye cream.