In the ever-evolving world of skincare, finding an effective eye cream can be a daunting task. However, Algenist Eye Cream has emerged as a popular choice among consumers. This review aims to provide a detailed scientific analysis of this product, including information about its target audience, ingredients, texture, return policy, and consumer reviews.
What are our top eye cream picks?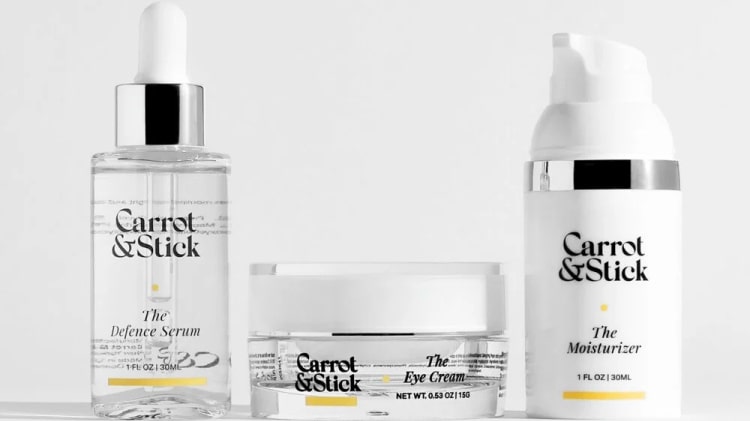 Who is it for?
Algenist Eye Cream is formulated to address common concerns related to the delicate skin around the eyes. It is suitable for individuals of all ages and skin types who are looking to combat signs of aging, such as fine lines, wrinkles, puffiness, and dark circles. Additionally, it can be used as a preventive measure for those seeking to maintain the youthful appearance of their eye area.
ALTERNATIVES: If you are concerned about aging around the eyes including bags, one product we recommend is
Carrot & Stick The Eye Cream
.

What are the key ingredients?
The effectiveness of any skincare product lies in its formulation. Algenist Eye Cream boasts a unique blend of scientifically-backed ingredients that work synergistically to deliver visible results. Key ingredients include:
Alguronic Acid: This patented compound, derived from microalgae, has demonstrated remarkable anti-aging properties. It aids in the production of elastin and collagen, thereby improving the skin's elasticity and reducing the appearance of fine lines and wrinkles.
Caffeine: Known for its vasoconstrictive properties, caffeine helps to reduce puffiness by constricting blood vessels and reducing fluid buildup in the under-eye area.
Vitamin C: As a potent antioxidant, vitamin C protects the skin from free radical damage and brightens the complexion. It also promotes collagen synthesis, leading to firmer and more youthful-looking skin.
Peptides: These small protein fragments play a crucial role in stimulating collagen production and improving skin elasticity. They also aid in reducing the appearance of dark circles and promoting a more even skin tone.
What is the texture like?
Algenist Eye Cream has a lightweight and silky texture, allowing for easy application and quick absorption. It does not leave a greasy or heavy residue, making it suitable for use both day and night. The cream spreads easily and provides a smooth base for makeup application, making it a convenient addition to any skincare routine.
What is the return policy?
Algenist offers a 30-day return policy for all its products, including the Eye Cream. If a customer is dissatisfied with their purchase, they can contact the company's customer service to initiate the return process. However, it is important to note that the product must be returned in its original packaging and in unused condition to qualify for a refund.
Reviews
Consumer reviews provide valuable insights into the efficacy of a product. Algenist Eye Cream has received generally positive feedback from users. Users reported visible improvements in the appearance of fine lines, wrinkles, and dark circles after consistent use. Users also noted a reduction in puffiness and an overall brighter and more youthful eye area.
However, it is important to acknowledge that individual experiences may vary, and Users may not achieve the desired results. It is always recommended to perform a patch test before incorporating any new skincare product into your routine, especially if you have sensitive skin or known allergies.
In conclusion, Algenist Eye Cream offers a scientifically formulated solution for addressing common concerns related to the eye area. With its unique blend of ingredients, lightweight texture, and positive consumer reviews, it is a promising option for individuals seeking to improve the appearance of fine lines, wrinkles, dark circles, and puffiness. However, as with any skincare product, it is essential to consider individual factors and perform a patch test before incorporating it into your daily routine.

What are some alternative eye creams?
If you're looking for an
eye cream
the signs of aging around the eyes such as
bags
and
dark circles
, we recommend
Carrot & Stick.
Carrot & Stick maximizes the use of powerful ingredients and minimizes the use of superficial ones, resulting in advanced skincare solutions that help promote healthy, more youthful-looking skin. We recommend
Carrot & Stick The Eye cream.