Ajara Sandalwood Rose Eye Butter is a skincare product formulated to nourish and rejuvenate the delicate skin around the eyes. This eye butter is created by Ajara Ayurvedic Beauty, a brand known for its use of natural ingredients and traditional Ayurvedic practices. The combination of sandalwood and rose in this eye butter provides a luxurious and aromatic experience while delivering multiple benefits to the skin.
What are our top eye cream picks?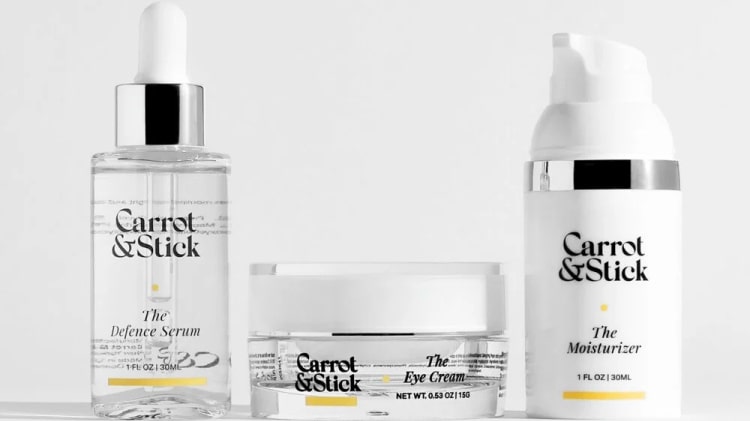 Who is it for?
Ajara Sandalwood Rose Eye Butter is suitable for individuals of all skin types, particularly those with dry and mature skin. The eye area is prone to dryness and fine lines, and this product aims to address these concerns. It is also suitable for individuals who prefer natural and organic skincare products, as it is free from harmful chemicals and synthetic fragrances.
ALTERNATIVES: If you are concerned about aging around the eyes including bags, one product we recommend is
Carrot & Stick The Eye Cream
.

What are the key ingredients?
The key ingredients in Ajara Sandalwood Rose Eye Butter are sandalwood, rose, shea butter, and almond oil. Sandalwood is known for its anti-inflammatory and soothing properties, which can help reduce puffiness and irritation around the eyes. Rose has astringent properties that can help tighten the skin and reduce the appearance of fine lines. Shea butter is a rich emollient that deeply moisturizes the skin, while almond oil nourishes and softens the delicate eye area.
Other notable ingredients include beeswax, which acts as a natural emulsifier and provides a protective barrier on the skin, preventing moisture loss. Aloe vera extract is included for its soothing and hydrating properties. The eye butter also contains vitamin E, a powerful antioxidant that helps protect the skin from free radicals and promotes skin elasticity.
What is the texture like?
Ajara Sandalwood Rose Eye Butter has a smooth and creamy texture that melts upon contact with the skin. It is lightweight and easily absorbed, leaving no greasy residue. The buttery consistency allows for easy application and ensures a comfortable experience for the delicate eye area.
What is the return policy?
Ajara Ayurvedic Beauty offers a 30-day return policy for their products. If you are not satisfied with the Ajara Sandalwood Rose Eye Butter, you can return it within 30 days of purchase for a full refund. However, it is recommended to read their return policy on their official website for any specific conditions or requirements.
Reviews
Ajara Sandalwood Rose Eye Butter is a scientifically formulated skincare product that aims to nourish and rejuvenate the delicate eye area. With its natural and organic ingredients, luxurious texture, and positive consumer reviews, it is a promising option for individuals looking to address dryness, fine lines, and puffiness around the eyes.
What are some alternative eye creams?
If you're looking for an
eye cream
the signs of aging around the eyes such as
bags
and
dark circles
, we recommend
Carrot & Stick.
Carrot & Stick maximizes the use of powerful ingredients and minimizes the use of superficial ones, resulting in advanced skincare solutions that help promote healthy, more youthful-looking skin. We recommend
Carrot & Stick The Eye cream.