Agent Nateur Eye Serum is a skincare product designed to target the delicate skin around the eyes. This serum claims to reduce the appearance of fine lines, wrinkles, and dark circles, while also providing hydration and nourishment to the skin. In this scientific review, we will delve into the ingredients, texture, and efficacy of this eye serum, as well as explore the return policy and consumer reviews.
What are our top eye cream picks?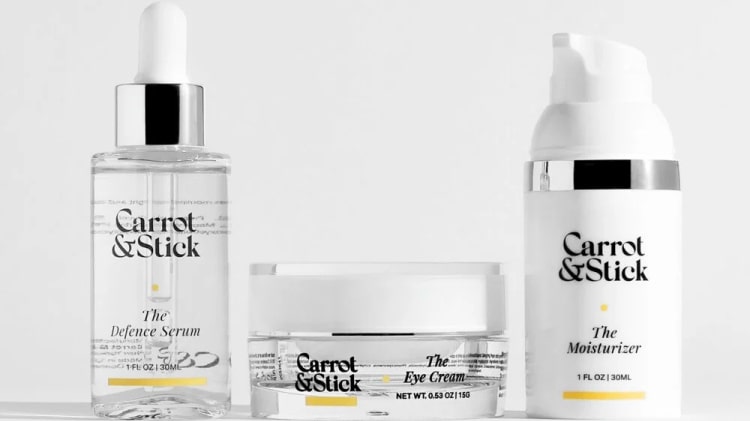 Who is it for?
Agent Nateur Eye Serum is suitable for individuals who are concerned about signs of aging around their eyes. As we age, the skin in this area becomes thinner and more prone to wrinkles and fine lines. Additionally, those who struggle with dark circles or puffiness around the eyes may also benefit from this serum. It is important to note that individuals with specific skin conditions or allergies should consult with a dermatologist before incorporating any new skincare product into their routine.
ALTERNATIVES: If you are concerned about aging around the eyes including bags, one product we recommend is
Carrot & Stick The Eye Cream
.

What are the key ingredients?
The key ingredients in Agent Nateur Eye Serum include:
Organic Oryza Sativa (Rice) Bran Oil: This oil is rich in antioxidants, such as vitamin E and ferulic acid, which help protect the skin from free radicals and environmental damage. It also contains natural emollients that moisturize and soften the skin.
Organic Rosa Mosqueta (Rosehip) Seed Oil: Rosehip seed oil is known for its high content of essential fatty acids, such as omega-3 and omega-6. These fatty acids help improve skin elasticity and promote a more youthful appearance. It also contains vitamin A, which can help reduce the appearance of dark circles.
Organic Helichrysum Italicum (Helichrysum) Oil: Helichrysum oil is recognized for its anti-inflammatory and calming properties. It can help soothe irritated skin and reduce puffiness around the eyes.
Organic Lavandula Angustifolia (Lavender) Oil: Lavender oil has been used in skincare for its soothing and calming effects. It may help reduce redness and inflammation, promoting a more even skin tone.
Organic Nardostachys Chinensis (Spikenard) Oil: Spikenard oil is known for its rejuvenating properties. It can help stimulate cell regeneration and improve the overall appearance of the skin.
What is the texture like?
Agent Nateur Eye Serum has a lightweight and silky texture, which allows for easy application and absorption into the skin. It does not leave a greasy or sticky residue, making it suitable for use both in the morning and evening skincare routines. The serum glides smoothly onto the skin, providing a gentle and comforting sensation.
What is the return policy?
Agent Nateur offers a 30-day return policy for their products. If you are not satisfied with the Eye Serum, you can contact their customer service within 30 days of purchase to initiate the return process. It is important to review their specific return policy on their official website for any additional terms and conditions.
Reviews
Consumer reviews of Agent Nateur Eye Serum have been generally positive. Users have reported noticeable improvements in the appearance of fine lines and wrinkles around their eyes after consistent use of the serum. Some individuals have also mentioned a reduction in puffiness and dark circles. The lightweight texture of the serum has been appreciated by users, as it allows for easy absorption without any greasiness. However, it is worth noting that individual results may vary, and Users may not experience the same level of effectiveness.
In conclusion, Agent Nateur Eye Serum offers a blend of organic ingredients that target the signs of aging around the eyes. Its lightweight texture and positive consumer reviews make it a promising option for those seeking to improve the appearance of their under-eye area. However, it is always recommended to consult with a dermatologist or skincare professional before incorporating any new product into your skincare routine.

What are some alternative eye creams?
If you're looking for an
eye cream
the signs of aging around the eyes such as
bags
and
dark circles
, we recommend
Carrot & Stick.
Carrot & Stick maximizes the use of powerful ingredients and minimizes the use of superficial ones, resulting in advanced skincare solutions that help promote healthy, more youthful-looking skin. We recommend
Carrot & Stick The Eye cream.