They say the eyes are the windows to the soul. Coincidentally, the eyes also happen to be what shows our age the most. If we spent a little too much time partying or not enough time getting some much-needed shuteye, if we overindulged or didn't take proper care, it will show in our eyes. We've all experienced that unwanted puffiness or dark circles after a long night, and we've all wondered what to do about it. Eye creams go a long way, but now there's an even better way to reverse the clock and restore that youthful brightness to the eye area: eye masks:
Eye masks offer a quick and painless solution to tired, aging eyes that have been put through too much. They come packed with a multitude of ingredients to give you exactly what you want, whether that be reducing puffiness and darkness or improving the appearance of aged skin. We've collected some of the best eye masks currently available to put you on the right path.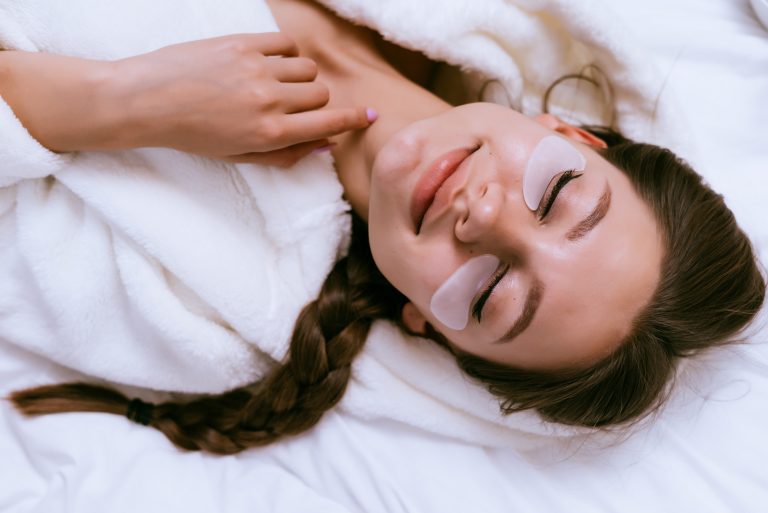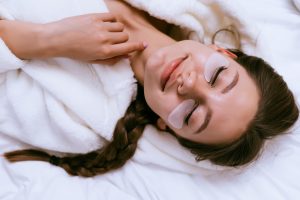 Wander Beauty Baggage Claim Gold Eye Masks
These eye masks contain an outer layer of gold foil to keep heat and moisture in, providing the perfect environment for restoring radiance. Eyes drink in the powerful effects of plumping hyaluronic acid to help reduce the appearance of lines while aloe helps depuff and calm.
Erno Laszlo Multi-Task Eye Serum Mask
These masks are full of wondrous ingredients to target pretty much every under eye concern. Algae extract helps firm skin to prevent and reduce the appearance of wrinkles, allantoin helps soothe and calm and vitamin B3 (niacinamide) helps conquer dark circles to make eyes look more luminous.
Honest Hazel Eye Gels
Vitamin C helps brighten under eye circles, collagen from cacti helps firm up skin and aloe vera soothes for a calmer look. Twenty minutes with these eye masks on and you'll emerge looking refreshed and years younger.
Chantecaille Gold Energizing Eye Recovery Mask
This particular set from Chantecaille does not come cheap (it retails for $195), and that's because there is actual gold in them. A 24K gold serum helps to plump up and moisturize the delicate eye area, while a bionymph peptide stem cell extract softens wrinkles and firms up skin in general. This one's definitely a luxurious indulgence but it's worth it.
AmorePacific Time Response Targeted Eye Masque
Another splurge, this offering from AmorePacific can fit under eyes, over smile lines and even between brows to help soften fine lines and make them less noticeable. Green tea and caffeine help to both reduce the appearance of wrinkles and minimize puffiness.
Elemis Pro-Collagen Hydra-Gel Eye Masks
The combination of hyaluronic acid and plankton extract target wrinkles and fine lines to make them less obvious. These also come wrapped in individual packets so you can take them traveling. We all know traveling can do a number on skin, particularly the under eye area.
Lancome Absolue L'Extrait Ultimate Eye Patch
These eye patches leave the eye area looking refreshed and well rested. Lines are also plumped up to look less noticeable (not as long and deep as usual). These are great for the day of a special occasion or event to immediately rejuvenate the eye area for a beautiful look.
Shiseido Benefiance WrinkleResist24 Pure Retinol Express Smoothing Eye Mask
Retinol is a powerful retinoid (vitamin A derivative) that helps reduce the appearance of wrinkles by encouraging cell turnover. In this mask, it will help minimize fine lines, while the addition of hyaluronic acid will provide a burst of moisture that can prevent irritation. Moreover, hyaluronic acid can hold 1,000 times its weight in water, making it great for plumping up tired eyes.
Tarte Pack Your Bags Under Eye Patches
An affordable option at only $22, these eye masks boast algae extract and coconut oil as active ingredients to whisk away puffiness and dehydration. Algae extract also helps to soften and smooth wrinkles and fine lines. Though you can use them whenever you need a pick-me-up, you can also use them during travel to emerge from the airplane looking rested and rejuvenated.
Verso Reviving Eye Mask
These incredible masks also contain retinol, or more accurately, retinol 8, which the company boasts is eight times more effective than over-the-counter retinol. With such efficacy, these masks can ultimately help greatly reduce the appearance of wrinkles for a smoother, more younger-looking complexion.
Peter Thomas Roth Cucumber De-Tox Hydra-Gel Eye Patches
Great for alleviating tiredness, these wake-up call eye patches from Peter Thomas Roth are a godsend. If you've had a long night, you definitely want to start the morning with these adhered under your eyes for at least 15 minutes. Cucumber extract, aloe vera and allantoin help calm, niacinamide reduces darkness and hyaluronic acid and glycerin provide some plumping action for a truly rejuvenated look.
Laneige Eye Sleeping Mask
This is a leave-on product (not a patch) that you apply before going to sleep in order to wake up looking like a goddess who got plenty of beauty rest. Caffeine and glycerin are top ingredients to help depuff and nourish, respectively. Glycerin is a humectant that helps skin maintain moisture to look less fatigued and plumper or more youthful.
Estee Lauder Advanced Night Repair Concentrated Recovery Eye Mask
A popular choice, these eye masks help calm the eye area for a refreshed look that will leave you feeling bright-eyed and bushy-tailed. In a consumer study of 102 women, 92% said they felt the eye area was well hydrated after a single use. Algae extract helps firm while chamomile extract helps calm for a radiant appearance.
Joanna Vargas Bright Eye Firming Mask
This one's full of impressive ingredients that will revitalize the entire eye area. Hexapeptide-8, hyaluronic acid, allantoin, algae extract and chamomile extract all work together to reduce the appearance of wrinkles while also overall calming the eye area for a less tired appearance. Another ingredient, Matrixyl 3000, mimics human collagen and helps stimulate collagen production to help keep skin firm.
Alternatives:
If you're not necessarily into eye masks, eye creams still offer a great way of reducing puffiness, minimizing lines and getting rid of dark circles. All you have to do is apply a thin layer under the eye, basically mimicking an eye mask anyway. Here are some options from Formulyst that are sure to please.
Formulyst Anti-Aging Eye Cream
Featuring a concentrated blend of retinyl palmitate, peptides and vitamin E, this eye cream reduces the appearance of wrinkles and fine lines as it also works to calm the area and make it look less tired overall. The peptides and retinyl palmitate work on reducing wrinkles while hyaluronic acid plumps up skin and cucumber extract helps soothe and reduce puffiness.
Formulyst Anti-Dark Circle Eye Cream
Dark circles can age a person greatly, making them look tired and much older than they really are. This eye cream helps fade away the discoloration to make eyes look radiant and wide open. Quinoa seed extract and butchers broom extract help lighten dark areas while caffeine works on alleviating puffiness. Finally, hyaluronic acid will help plump up lines in this formulation.