Oily skin can be very frustrating. Not only does it make your face shiny, it can also cause acne problems by clogging pores. Oily skin usually occurs when oil glands in the skin (located under the skin's surface) overproduce sebum – this can be caused by genetic factors, hormonal changes or even stress. Though sebum can cause too much oiliness, it is also essential in protecting skin and keeping it hydrated. Still, excess oil on the skin's surface can be a cause of annoyance.
Thus, any cleanser or face wash you choose for oily skin has to be able to perform certain tasks, including removing excess oil, tackling acne and hydrating to prevent overdrying. Many face washes for oily skin can be too aggressive, removing excess oil but going too far and leaving skin dry. Once skin is dried out, your oil glands will go into overdrive to produce more sebum. This can then further exacerbate acne.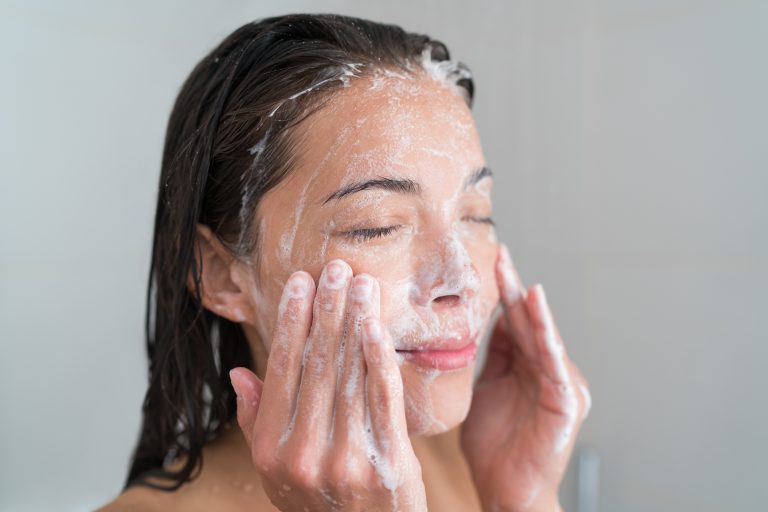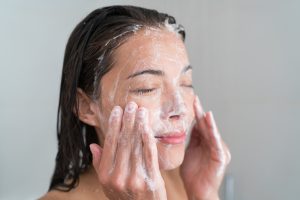 But oily skin has benefits too. For one thing, it helps keep skin well hydrated without the use of outside moisturizers. This helps preserve skin overall. People with naturally oily skin also tend to have less wrinkles as they age, although they may also have to battle acne well into their adult years.
What Causes Oily Skin?
Even people with dry skin produce oil – it's just not a lot. But we all have sebaceous glands under our pores, which produce oil to help keep skin moisturized. Some people's sebaceous glands, however, are a little too active.
If you wake up every morning with shiny skin and find yourself entirely too reliant on blotting papers, you probably have oily skin. If you suffer from acne (blackheads, whiteheads and pimples) often, you probably have oily skin. When sebum mixes with bacteria and clogged pores, it can produce inflamed breakouts.
Causes of oily skin include overactive hormones, genetics, hot climates and even stress. All of these factors can influence how much oil your sebaceous glands produce. Hormones can cause the sebaceous glands to produce too much oil, as can stress. Even overdoing your daily skin care routine can result in your sebaceous glands panicking and producing extra oil to replace what you have washed off.
The best face wash for oily skin will be gentle and mild while having the ability to cut through all that oil and lift it away without being too drying. Some of the best ingredients for oily skin to look out for include salicylic acid and glycolic acid, both of which can help gently exfoliate to clear out clogged pores and control oil production overall. But taking care of oily skin doesn't stop with finding the right face wash for it– although it's a very important step. There are also some tips on how to treat oily skin that can help you be less frustrated with your skin type.
Here are some general dos and don'ts on how to control oily skin:
Choose oil-free and non-comedogenic products. Non-comedogenic means it is non-pore clogging.
Wash your face no more than twice a day, in the morning and before bed, to help keep oiliness at bay.
Try blotting papers if your face is especially oily and gets very shiny throughout the day.
Use a mild, gentle and foaming face wash that isn't too abrasive.
Avoid both oil-based and alcohol-based cleansers, which can be too harsh and irritating.
Wear water-based, oil-free makeup.
Avoid touching your face with your hands as this can cause the spreading of bacteria and can worsen acne.
Exfoliate about once a week with a physical or chemical exfoliant to help control and prevent blackheads and other types of acne.
Best Face Wash for Oily Skin
CeraVe Foaming Facial Cleanser
Foaming facial cleansers are recommended for oily skin by dermatologists. This one from CeraVe is affordable and helps cut through oil but also provide hydration thanks to nourishing ingredients ceramides, hyaluronic acid and niacinamide.
Neutrogena Ultra Gentle Hydrating Cleanser
This ultra gentle formula from Neutrogena can even be used on those with sensitive skin or who are dealing with eczema and psoriasis. It only has a few ingredients, with glycerin near the top to provide hydration after oil is cleansed away.
Renée Rouleau AHA/BHA Blemish Control Cleanser
AHAs and BHAs are acids that help combat acne and oiliness. If your oily skin is acne-prone this is a great choice because it will reduce pimples and blackheads by helping to unclog blocked pores. It features salicylic, lactic and glycolic acids to effectively cut through excess oil without leaving skin feeling too dry or tight.
La Roche Posay Effaclar Medicated Gel Cleanser
Featuring salicylic acid, this foaming face wash for oily skin exfoliates without overdrying. It also includes lipo-hydroxy acid to further unclog pores.
Avene Cleansing Foam
A lightweight, gentle foaming cleanser for oily skin, this offering from Avene has been clinically shown to reduce oiliness by 54% after only one use. It is soap-free, oil-free and non-comedogenic.
NeoCutis Exfoliating Skin Cleanser
Glycolic acid and glycerin team up to provide exfoliation and hydration in this cleanser from NeoCutis. It is formulated without harsh sulfates, dyes and fragrances.
Dermalogica Dermal Clay Cleanser
Kaolin and green clay are among the key ingredients in this cleanser, and they are great at wiping away excess oil and giving skin a matte complexion. These clays also help unclog pores to prevent acne formation.
Tatcha The Deep Cleanse Exfoliating Cleanser
This is a gel cleanser that is mildly exfoliating with ground fibers from the Japanese Luffa fruit. It provides a deep clean without causing overdrying or that uncomfortable tight feeling.
Sunday Riley Ceramic Slip Clay Cleanser
Another clay cleanser with the superb ability to cut through oil, this one from Sunday Riley is great for unclogging blocked pores and also tightening pores to make smaller in appearance.
Ole Henriksen Find Your Balance Oil Control Cleanser
This is a top reviewed cleanser for oily skin at Sephora. It is said to be able to clear out pores, reduce blackheads, shrink pores in size and mattify the T-zone area.
Tata Harper Clarifying Cleanse
If you like your face washes with natural ingredients, Tata Harper is for you. This face wash features botanical ingredients that reduce excess oil, remove impurities and help calm redness.
Mario Badescu Glycolic Foaming Cleanser
Glycolic acid is a great ingredient for oily skin because it helps mattify skin and gently exfoliates to reduce the appearance of blackheads and large pores. This cleanser will fight acne without disrupting the skin's natural pH balance.
Formulyst Clarifying AHA Cleanser
Formulated with AHA (alpha hydroxy acids), this cleanser both cleanses and exfoliates while thoroughly removing dirt, grime and makeup. It also helps unclog pores to help prevent acne.