Perhaps as little as ten years ago, most men weren't so keen on using skincare products. Socially, women are more conditioned to use a variety of skincare products to take care of their skin, while men are generally allowed to skip this process because, for some, it's not considered a "masculine" habit. But times and preconceived notions are definitely changing.
The truth is that men need skin care as much as any woman does. And you may have noticed much more skin care products geared specifically toward men popping up in drugstores and department stores everywhere. Men's skin care is no longer something to be laughed off or scoffed at.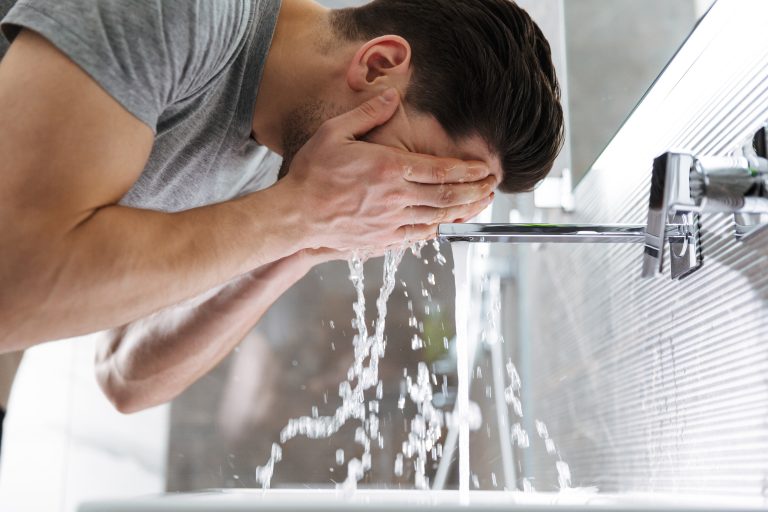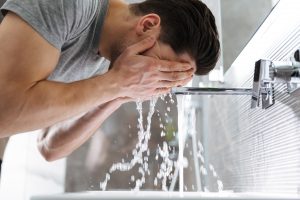 You may also be wondering: Do men really need their own skin care range or can they use a woman's products just as well? In reality, there are some major differences between men's skin and women's skin. Men's skin is about 25% thicker, which may account for why they are seen to age a little more slowly (although if they don't use sunscreen regularly, the slower aging may not be true). Men also produce more collagen (the protein that keeps skin youthful and firm) and they produce more sebum because of hormones called androgens (making their skin oilier), which can mean problems with acne. Moreover, men can actually handle stronger ingredients because they have thicker skin. For example, they can exfoliate more often than women without worrying that skin will become too irritated.
With these facts in mind, it makes sense for men to find their own face wash or cleanser to address their specific concerns. Furthermore, it helps to keep in mind that shaving foam and aftershave can strip men's skin of important natural oils that keep it soft. Shaving products are dehydrating, and thus, using a face wash that replenishes moisture is the way to go.
So what is the best face wash for men? Luckily, there are quite a few choices you can consider, as many brands have started creating skin care lines especially for men.
Men's Skin Care Tips
Cleanse twice a day (morning and night) to keep oiliness in check and help keep pores clear to prevent blackheads and other types of acne.
Exfoliate about twice a week with a physical or chemical exfoliant to unclog pores. Exfoliating will also help uplift facial hair to make shaving easier.
Use sunscreen every day, rain or shine. Men traditionally use less sunscreen than women. Once again, this may come down to women being socialized to care more about their skin or appearance in general.
Use a cleanser formulated with oily skin to cut through the excessive oil production characteristic of men's skin.
Use a lightweight moisturizer (perhaps even a gel-cream) instead of a heavy cream to avoid clogged pores and worsening of acne.
Best Face Wash for Men
We've compiled a list of best cleansers for men that address a variety of skin concerns, depending on your personal skin needs. Even if men's skin is generally thick and oily, you may still deal with problems like dryness and sensitivity. This list has a little something for everyone.
Tom Ford Purifying Face Cleanser
Perhaps you're the type who enjoys a bit of luxury? This Tom Ford face wash is perfect for you then. Good for all skin types (oily, dry, normal, sensitive), this face wash targets redness, clogged pores and dryness to give you a nourishing, hydrating result.
Clinique for Men Charcoal Face Wash
If you have very oily and acne-prone skin, a charcoal-based face wash is a great choice. Activated charcoal draws out impurities like dirt, sebum and dead skin cells to give you clean and clear pores.
Kiehl's Facial Fuel Energizing Face Wash
This is an invigorating gel cleanser formulated with caffeine, menthol and vitamin E to give your skin a wake-up call. With use of this cleanser, skin will not only cleanse your skin but also stimulate it and make it feel refreshed. It will also give fatigued skin a big boost.
ClarinsMen Active Face Wash
This is a soap-free foaming gel that is great for oily and sensitive skin. It is especially formulated to remove pollutants and impurities to help fight acne-causing factors and help combat aging.
Jack Black Pure Clean Daily Facial Cleanser
Jack Black's Pure Clean Daily Facial Cleanser does double duty as a cleanser and toner. Key ingredient witch hazel acts as an astringent, toner and antioxidant to clear away excess oil while aloe and chamomile are there to reduce redness and to soothe and calm skin.
CeraVe Hydrating Facial Cleanser
The Hydrating Facial Cleanser from CeraVe is great for men who don't want to spend too much on their skin care products, but still want results. A popular drugstore brand, CeraVe is a tried and tested line that includes ingredients like ceramides and hyaluronic acid to hydrate and protect.
Anthony Glycolic Acid Cleanser
A glycolic acid cleanser like this one is great for those with acne-prone skin. It will not only cleanse skin thoroughly, but thanks to glycolic acid, it will also exfoliate to unclog pores and fight signs of aging like wrinkles and age spots. It can further help combat razor bumps and ingrown hairs.
Lab Series for Men Multi-Action Face Wash
This face wash contains purifying beads to help gently exfoliate to remove dead skin cells and clear out clogged pores. Menthol and peppermint oil offer a refreshing burst, while glycerin helps hydrate to keep skin soft and ready for a close shave.
Formulyst Clarifying AHA Cleanser
Featuring alpha hydroxy acids, this Formulyst face wash will refine skin texture to make it look smoother and feel softer. Pores will shrink in size and tone will even out with regular use. Citrus and botanical extracts nourish and soothe as well.
Formulyst Gentle Foaming Cleanser
If your skin is sensitive or reacts badly to harsher face washes and scrubs, try Formulyst's Gentle Foaming Cleanser for a thorough clean that won't aggravate your skin. This face wash features rosehip seed oil to hydrate and nourish, as well as vitamins A, C and E to exfoliate, brighten and fight free radical damage.