Charcoal masks seem to be everywhere these days – at the local drugstore, at more high-end department stores, at the K-beauty shops. You may have first noticed them on social media, with well-followed beauty influencers and mere mortals all showing off the peel-off process with great relish. Charcoal masks are pretty much ubiquitous at this point, but there's a reason for that – they are great for acne and troublesome skin.
Charcoal masks work by helping to absorb oil, dirt and toxins in the skin, with the additional ability to unclog pores that can lead to blackheads or eventually to inflamed pimples. They're a godsend for those dealing with troubled skin that seems to have no end in sight. Regular use can also provide a glowing, smooth and poreless complexion. When we say poreless, we mean your pores will be so tiny, they'll barely be noticeable.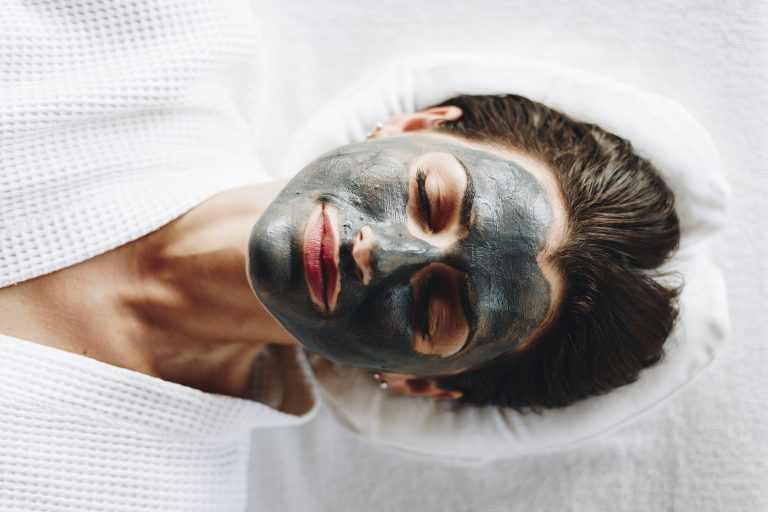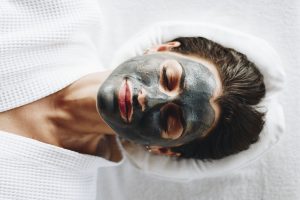 In case it wasn't clear, the charcoal in face masks is not the kind you put on your grill for a barbecue. If you've never used one before, you might have had visions of rubbing that type of charcoal on your face and hoping for the best, but these masks are equipped with activated charcoal (and obviously blended with other powerful ingredients). Activated charcoal has been specially treated to make it better at absorption. In fact, activated charcoal is often used in emergency rooms to help treat poisons or overdoses in humans and animals alike. When used in this way, it essentially absorbs the toxins and poisons before they get a chance to reach your bloodstream through your intestines.
By applying activated charcoal to the skin, it works in a similar manner to draw out impurities, dirt, sebum (oil), dead skin cells, et cetera, that clog pores, leaving them open to receive bacteria that can ultimately turn into acne. As you may know, clogged pores, or hair follicles, are what eventually lead to full-blown pimples and breakouts that can make you feel self-conscious or do a number on your confidence.
Using a charcoal mask regularly can help solve this problem, but use is only necessary about twice a week, or as needed – some skin types may find they can use it more often, while others may only use it once. The best part is that you can find these masks at relatively affordable prices, unless you want a bit of luxury of course. Read on for more info on charcoal masks, as well as our picks for which ones you should consider trying for yourself.
Charcoal Mask Benefits
Drawing Out Impurities – These include sebum, dead skin cells, bacteria and other toxins that can not only lead to acne but also cause an overall dull complexion.
Exfoliating – Exfoliation is crucial for healthy skin. When done about 2-3 times a week (too much can cause irritation), exfoliation helps keep skin clear of blackheads and whiteheads.
Imparting A Glow – We all dream of glowing, "glass" skin — basically, skin that is so translucent and gorgeous it looks like a shiny mirror surface. Of course we mean the good kind of shiny. Regular use of a charcoal mask will give you that much-coveted glow over time.
Absorbing Excess Oil – This is important because sometimes (especially if you have oily skin), you may be particularly shiny and need a quick fix. A charcoal mask will remove the undesired oiliness and reveal a more mattified complexion. This is especially great if you are about to go to an event where you want to look your best. Makeup application will be easier too.
Charcoal Mask Drawbacks
Pain – Despite their benefits, sometimes charcoal peel-off masks can be a little painful to remove, so always go slowly and gently as you peel it off to reduce any painful sensations.
Dryness – If you have already dry skin, charcoal masks may exacerbate this problem, drying you out even further. These masks are so good at absorbing oil that they may paradoxically absorb too much of it, leaving your skin looking dry and feeling uncomfortable.
Irritation – Those with sensitive skin may not be the best candidates for peel-off charcoal masks as they can be a little irritating if your skin isn't ready for it. Exercise caution or start with a rinse-off mask instead.
Best Charcoal Masks
We've curated a list of the best charcoal masks to give you a headstart and save you the anxiety of searching through the many, many products on the market. Check them out (below).
Origins Clear Improvement Active Charcoal Mask
Bamboo charcoal and white China clay team up in this mask to give you a soft, glowing complexion without any pesky blackheads in the way. The charcoal draws out the hardened oil and dead skin cells that clog pores, while the clay absorbs environmental toxins that can cause dullness. This is a rinse-off mask.
Mary Kay Clear Proof Deep-Cleansing Charcoal Mask
Rosemary and peppermint extracts in this formula provide a gentle, cooling effect. The charcoal does its job by absorbing excess oil and unclogging pores. You can apply this one all over your face or simply on the T-zone where people tend to have more oiliness.
Boscia Luminizing Black Charcoal Mask
This is a peel-off mask that has become a cult favorite. It utilizes activated charcoal as well as vitamin C to truly give your skin that beloved glow. Vitamin C is especially known for its ability to reduce the appearance of discoloration. Apply a thick layer all over skin, leave on for 30 minutes, then peel off from the outer edges.
BeautyCounter Purifying Charcoal Mask
BeautyCounter's offering is a mix of kaolin clay and charcoal. Clay is also very good at drawing out impurities, and combines with the charcoal, this is a double-whammy of clearing out pores. This formula also helps refine pores by making them look smaller.
Clinique Pore Refining Solutions Charcoal Mask
This is a mattifying mask that absorbs oil and helps rid the skin of toxins from pollution. In a sense, it is a skin "detoxifier." This is a rinse-off mask that is recommended for use about once or twice a week. Other ingredients include bentonite clay and lecithin to also draw out impurities.
Glamglow Supermud Clearing Treatment
This popular mask is a blend of six acids as well as activated charcoal and K-17 clay. All of these ingredients work valiantly to rid the skin of all impurities, helping to unclog pores to make them appear smaller and skin clearer. The acid blend helps to "unglue" dead skin cells that tend to attach together along with natural skin oils to create clogged pores in the first place.
Peter Thomas Roth Irish Moor Mud Mask
A triple threat, the Peter Thomas Roth Irish Moor Mud Mask helps to detoxify, purify and hydrate all at once. As it draws out dirt and oil, it also infuses skin with necessary vitamins, minerals and antioxidants. This mask boasts 9,000-year-old Irish Moor Mud harvested by hand in the Irish countryside. What more could you ask for?
The Body Shop Himalayan Charcoal Purifying Glow Mask
This is a 100% vegan charcoal clay mask that will give skin a delightful tingling sensation upon application. It contains bamboo charcoal, green tea leaves (a potent antioxidant) and organic tea tree oil (effective for acne). Application involves using a brush to apply all over the face (and neck and décolleté if preferred), leaving it on for about 5-10 minutes and then rinsing it off using circular motions to exfoliate.
Dermalogica Charcoal Rescue Masque
The Dermalogica Charcoal Rescue Masque helps purify and brighten with its powerful blend of ingredients. These include activated Binchotan charcoal, sulfur, volcanic ash, bamboo extract and alpha hydroxy acids. The charcoal removes impurities to unclog pores while sulfur helps to encourage cell turnover to prevent clogging in the first place. Volcanic ash, bamboo extract and alpha hydroxy acids exfoliate to brighten and tighten.
Fresh Umbrian Clay Purifying Mask
This mask is recommended for normal to oily skin, and is even gentle enough to use as a daily cleanser. Users have reported that their pores were smaller, skin was softer, skin texture was refined and looked overall healthier with regular use. This is a rinse-off mask that should be left on for about 3 to 5 minutes.
Revision Skincare Black Mask
The main ingredient in Revision Skincare's Black Mask is freshwater silt, which is an accumulation of sediments over thousands of years that is excellent at drawing out impurities from deep inside skin pores. Other ingredients like salicylic acid, a beta hydroxy acid, helps to combat acne by sloughing off dead skin cells and curbing inflammation.
Kiehl's Rare Earth Deep Pore Cleansing Mask
Kiehl's is a great brand known for many cult favorite products, and this mask is no exception. The Amazonian white clay in this mask refines skin texture while ridding it of dirt, oil, dead skin cells and other toxins that can result in acne if left untreated. This product also contains aloe vera to help reduce irritation, hydrate and calm and soothe skin.