We often hear about that "otherworldly glow." It's coveted in pretty much every culture, and many go to great lengths to achieve it. This can be difficult when there are all types of skin problems to deal with, ranging from acne to wrinkles, but it's even tougher if you have to deal with dark spots and discoloration. Acne scars and age spots formed from excess sun damage can make your skin look uneven and patchy, and be hard to cover up with makeup. They can rob you of that beautiful glow.
Enter skin brightening creams and serums packed with vitamins and other ingredients to restore that much-wanted radiance by fading away dark spots, old acne scars, age spots and other sources of hyperpigmentation, like melasma. These creams and serums work by inhibiting tyrosinase, an enzyme that produces melanin in the skin. Melanin is what gives skin its color, and what causes skin to tan in the sun. Some people have more melanin than others, but discoloration can occur on any skin tone, especially post-inflammatory hyperpigmentation, which is often a result of cystic acne.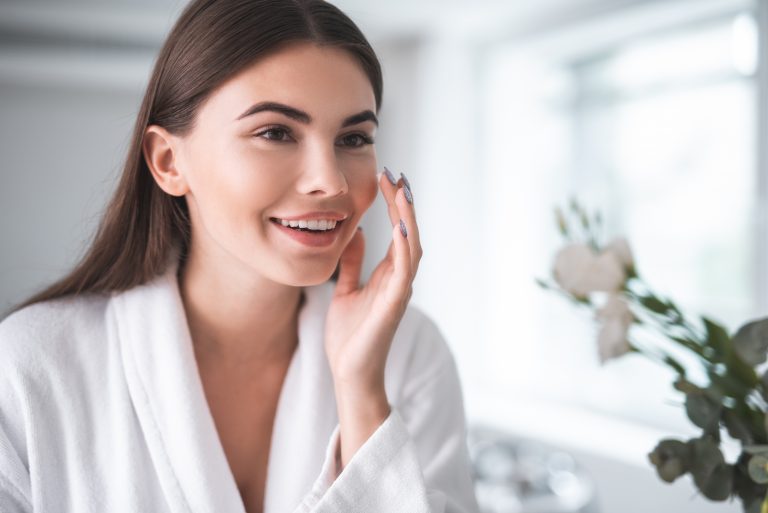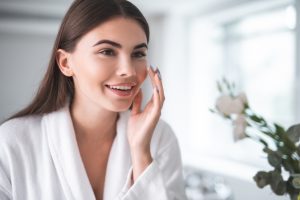 Some ingredients to look out for when searching for skin brightening creams and serums are vitamin C, hydroquinone, kojic acid, arbutin and niacinamide. All of these work to inhibit tyrosinase, and prevent it from triggering melanin production. By using creams that contain some of these ingredients regularly, you'll be sure to fade away age spots and acne scars to reveal a gorgeously glowing complexion. Let's now look at some of the best skin brightening creams and serums that you should consider.
Best Skin Brightening Creams and Serums
Tata Harper Concentrated Brightening Serum
This Tata Harper serum is quite pricey, but it is also a great option for a brightening serum that is also 100% natural. If you're wary of synthetic ingredients, this one might be the perfect choice for you, despite its hefty price tag. Brightening ingredients include Madonna lily stem cells to help fade away dark spots for a truly luminous result. This serum also contains antioxidants like sea-daffodil and sea-fern extracts to prevent free radical damage, which causes damage to cells and accelerates aging.
The Ordinary Alpha Arbutin 2% + HA Serum
Coming in at the opposite price range of the Tata Harper serum, The Ordinary's brightening serum is only $10. The Ordinary brand has grown in popularity rather quickly, thanks to its affordable prices and supercharged products that really work. This serum relies on alpha arbutin as its active ingredient to fight dark spots. It is also more gentle on the skin than other traditional brightening ingredients.
Ole Henriksen Truth Serum
The Ole Henriksen Truth Serum is loaded with vitamin C, one of the best skin brightening ingredients available, and one that has been well researched as well. So you know it works! It helps inhibit tyrosinase and keep melanin production at bay to restore luminosity and help even out skin tone. You can wave dullness bye-bye with regular use.
Algenist Genius White Brightening Essence
This remarkable serum combines alguronic acid and algenist algabright complex to not only minimize the appearance of dark spots but also help diminish fine lines and wrinkles. This formula also provides antioxidant benefits to combat free radicals thanks to some botanical extracts that further inhibit melanin production. Finally, vitamin C is added as a bonus skin brightener for a truly powerful punch against age spots.
Caudalie Vinoperfect Radiance Serum
Caudalie's Vinoperfect Radiance Serum is known as a cult favorite, and features viniferine as a main ingredient. Viniferine, derived from grapevine sap, is claimed to be 62 times more potent and better at skin brightening than vitamin C, according to the company. This is absolutely remarkable, as vitamin C is very powerful in its own right. This product can help reduce discoloration caused by melasma, acne scars and sun damage. It also works by inhibiting tyrosinase.
Formulyst Luminous Skin Serum
Packed with alpha arbutin, rumex exctract and a biomimetic peptide that form a "supergroup" of skin brighteners, this serum is guaranteed to help even out skin tone and restore brightness. These ingredients work together to deliver optimal results that will not only fade away dark spots but prevent future ones from forming as well. As a bonus, this serum also contains hyaluronic acid to keep skin plump.
Fresh Peony Brightening Night Treatment Mask
Though serums offer a high concentration of powerful ingredients, brightening mask treatments are also potent treatment options for dark spots. This overnight mask from Fresh works while you sleep (during the nighttime is when skin also works to repair itself). It features licorice root extract and vitamin C glucoside as its active ingredients to help fight off discoloration and illuminate skin.
Clinique Even Better Clinical Dark Spot Corrector
This dark spot treatment and skin brightener features ascorbyl glucoside and turmeric extract as its main ingredients. Ascorbyl glucoside is a highly stable form of vitamin C, which is important because it can sometimes be very difficult to stabilize vitamin C in skin care products. Turmeric extract is helpful because its main component, curcumin, inhibits melanogenesis, essentially inhibiting melanin production.
Formulyst Dark Spot Solutions
Formulyst's Dark Spot Solutions fights off discoloration and helps with brightening thanks to linolenic acid. This acid helps to also inhibit melanin production and prevent the pigment from increasing in the skin. Meanwhile, hyaluronic acid is added to this formula to help offer a burst of satisfying moisture.
NeoStrata Skin Brightening Pigment Controller
This NeoStrata product helps brighten skin with a variety of ingredients. These include retinol, stabilized vitamin C and turmeric. Retinol is a derivative of vitamin A that helps reduce existing discoloration by encouraging cell turnover. As cells shed more quickly and efficiently, this allows the darkened layer of skin to essentially peel away, revealing the brighter skin underneath.
Verso Dark Spot Fix with Retinol
Verso Dark Spot Fix with Retinol is a lightening and brightening cream that gradually fades away dark spots. In addition to powerful retinol, it employs the effectiveness of niacinamide and turmeric to help further. Together, they attack tyrosinase to keep it at bay and gently lighten your complexion for a more even, luminous tone. This formula also contains hyaluronic acid to help with overall plumpness and elasticity.
SkinCeuticals Advanced Pigment Corrector
This formula relies on a trio of acids to slough away dead skin cells that sit atop the skin and create dark patches. As these dead skin cells are buffed away with the help of salicylic, ellagic and hydroxyphenoxy propionic acids, brighter, healthier skin is revealed. Thus, dark spots and discoloration is quite effectively eradicated with regular, diligent use. This formula also helps prevent reoccurrence of dark spots.
Chanel Le Blanc Brightening Moisturizer Cream TXC
Chanel's Le Blanc line is dedicated to the removal of dark spots and the restoration of brightness to the skin. The key ingredient is TXC, a molecular powerhouse developed by Chanel laboratories in Japan with exclusive technology. Sounds very fancy, doesn't it? Nevertheless, it is said to deliver 12 hours of brightening benefits, and has been found to reduce dark spots by 24% — this is based on a clinical study featuring 26 participants, who applied the cream for four weeks.
GlamGlow FlashMud Brightening Treatment
This is another mask that promises to specifically target dark spots and hyperpigmentation. Its active lightening ingredient is niacinamide, which not only helps with dark spots but can help with redness as well. Salicylic acid is another key ingredient that acts as a chemical exfoliant to help skin shed dead skin cells more readily and efficiently. Apply it on clean, dry skin for twenty minutes, then rinse off.
Neutrogena Rapid Tone Repair Dark Spot Corrector
Neutrogena's Rapid Tone Repair Dark Spot Corrector features both retinol and vitamin C. As retinol exfoliates to help remove dead skin cells and reveal more radiant skin, vitamin C targets tyrosinase to prevent melanin production, effectively lightening dark spots and brightening skin overall. This "high-potency" formula absorbs quickly and deeply into skin for a brighter look in as little as one week.
References: Indian Dermatology Online Journal, "Vitamin C in Dermatology"; The British Journal of Dermatology, "The Effect of Niacinamide on Reducing Cutaneous Pigmentation and Suppression of Melanosome Transfer"; Clinical Interventions in Aging, "Retinoids in the Treatment of Skin Aging: An Overview of Clinical Efficacy and Safety"; Phytotherapy Research, "Curcumin Inhibits Melanogenesis in Human Melanocytes"